Latest News about Sacha Kaluri  (Click thumbnails for more)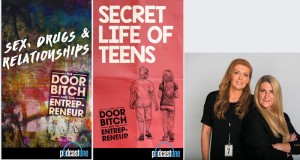 Parents podcast – Secret Life of Teens – CLICK TO LISTEN
Sonya Karras – The Door Bitch and Sacha Kaluri – The Entrepreneur have spoken with more than one million teenagers over the past 18 years. Talking to them on the real issues they deal with everyday. Bullying, sex, drugs, cyber safety and career choices. In this series we share our tip, strategies and information to help you have meaningful conversations with your teenager.
Teenagers Podcast – Sex, Drugs and Relationships – CLICK TO LISTEN
Sex, you're gonna have it. Do you know what to do? Drugs, you're gonna be offered them. So you should know about them. Cyber threats, how do you protect yourself? Bullying, how can you deal with it? Sonya Karras – The Door Bitch and Sacha Kaluri – The Entrepreneur have been talking to young people like you for years. Talking about the stuff that matters and helping you in your everyday life. This is the stuff you need to know about!
New Book!
Click here to purchase Sonya and Sacha's NEW BOOK
"The Two Worlds of your Teenager"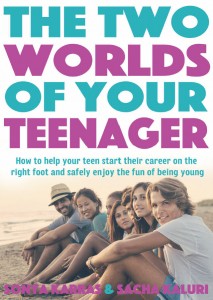 Sacha Kaluri became an entrepreneur at the age of 18 years old after starting her own business straight, after finishing Year 12.  In 2000 she began The Motivational Company travelling all over Australia speaking to young people on the topics of;
How To Have The Career Of Your Dreams
Bullying and Online Bullying,
Stress Management
Body Image
Goal Setting,
Employment and Interview Skills
Teamwork and Leadership
Relationships
The Art of Resilience
The Craft of Public Speaking
Seminars specifically for International Students – How to be a successful Australian
And also runs various parent and teacher seminars
Visiting more than 150 schools, councils and juvenile detention centres each year. Not only is she educational and engaging but Sacha also brings humour to all of her presentations.
Her call to action is to Motivate, Activate, Inspire and get people Excited and Confident about their future.
After having many successful businesses, in 2011 Sacha became co-founder and co-director of the Australian Teenage Expo, our countries largest educational youth event, which has attracted more than 50,000 teens and has toured every State and Territory of Australia working together with The Federal – Department of Education and Training. www.teenageexpo.com.au is also the very first online directory for young people, parents and educators.
Australian Teenage Expo aims to provide everything a teen, parent or educator needs to know about in three key areas – Education, Services and Products, with as much fun and interaction as possible.
In 2014 and 2015 Sacha Kaluri was chosen as Australia's very first official ambassador for the worldwide United Nations – Women's Entrepreneurship Day.
2015 Sacha accepted an ambassadoreship for the Bully Zero Foundation . Then in 2016 Sacha created her very own HIT TV Program with her best friend Sonya Karras. The Sonya and Sacha Show is National TV program for parents. Discussing real and tough parenting issues in a fun and light hearted way.
2017 showcased Sacha's parenting expert advice by her and Sonya becoming columnist for one of Australias leading newspapers the Herald Sun.  The followed by popular mummy website The Carousel –  www.thecarousel.com
August 2017 sees the release of her first book the "The Two Worlds Of Your Teenager" – Finch Publishing
Sacha Kaluri is a mother of two boys, a leading youth expert and speaker, bringing real stories of young peoples lives to the front line. As well, Sacha has been sitting on the board of ChildWise since 2011
With her down to earth and real approach, Sacha always invites her audience to sit back, relax and definitely have a laugh at all her stories.
Sacha Attracts Media Attention For Her Work
Motivate
https://www.youtube.com/watch?v=TnNwlCKCF4o
Educate
https://www.youtube.com/watch?v=-hG4lUTttI0
Sacha Attracts Media Attention
https://www.youtube.com/watch?v=K__5AwYIDGc